PRESS
Various Music & Show reviews - Blogs & Magazines
Press Contact Lindsay @ Wanderlvst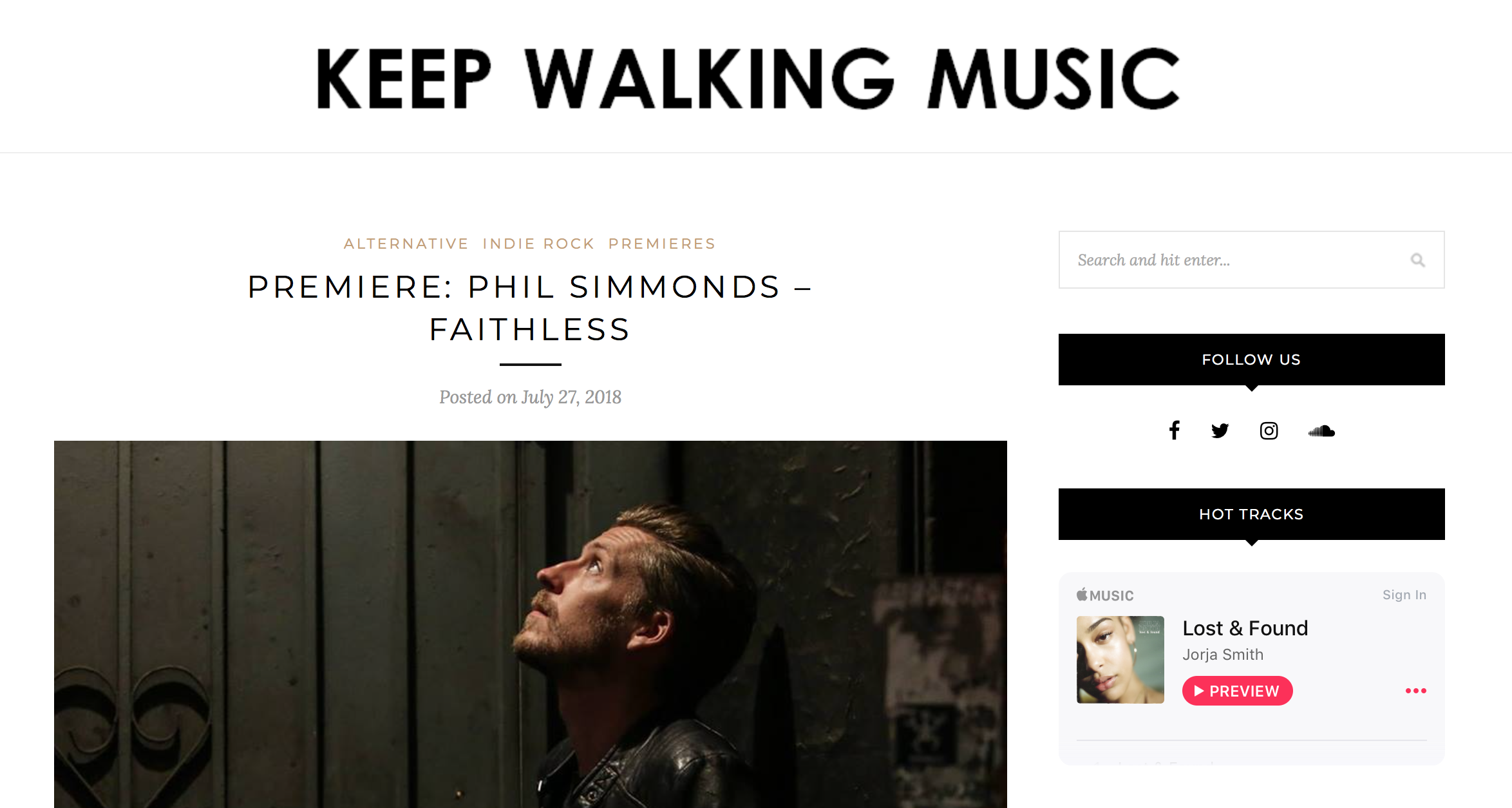 "Sorry, but the scale isn't big enough. New Phil Simmonds is absolutely incredible. Whether it's the honest and vocal style or maybe it's the sharp and catchy production. Either way, we love the direction Phil is taking with his music and if you haven't checked out the new release, you're seriously missing out. 'Faithless' is the artist's new release and if you love it as much as we do, share it with your friends"
"Das ist Singer Songwriter Folk, wie er im Buche steht. PHIL SIMMONDS aus Los Angeles hat mit 'Faithless' den perfekten Road Trip Song geschrieben. Der Song ist ein sogenannter Grower, der von Sekunde zu Sekunde immer stärker wird und am Ende in seiner Schönheit explodiert."
"I found it daunting at first because of its length. The song – really, a compilation of songs – stretches out to just over twenty minutes. Upon listening to it, I found that its daunting-ness could be more easily attributed to it needing every minute of those twenty to convey the raw emotions of the author, who evidently had a soul-gnawing break-up."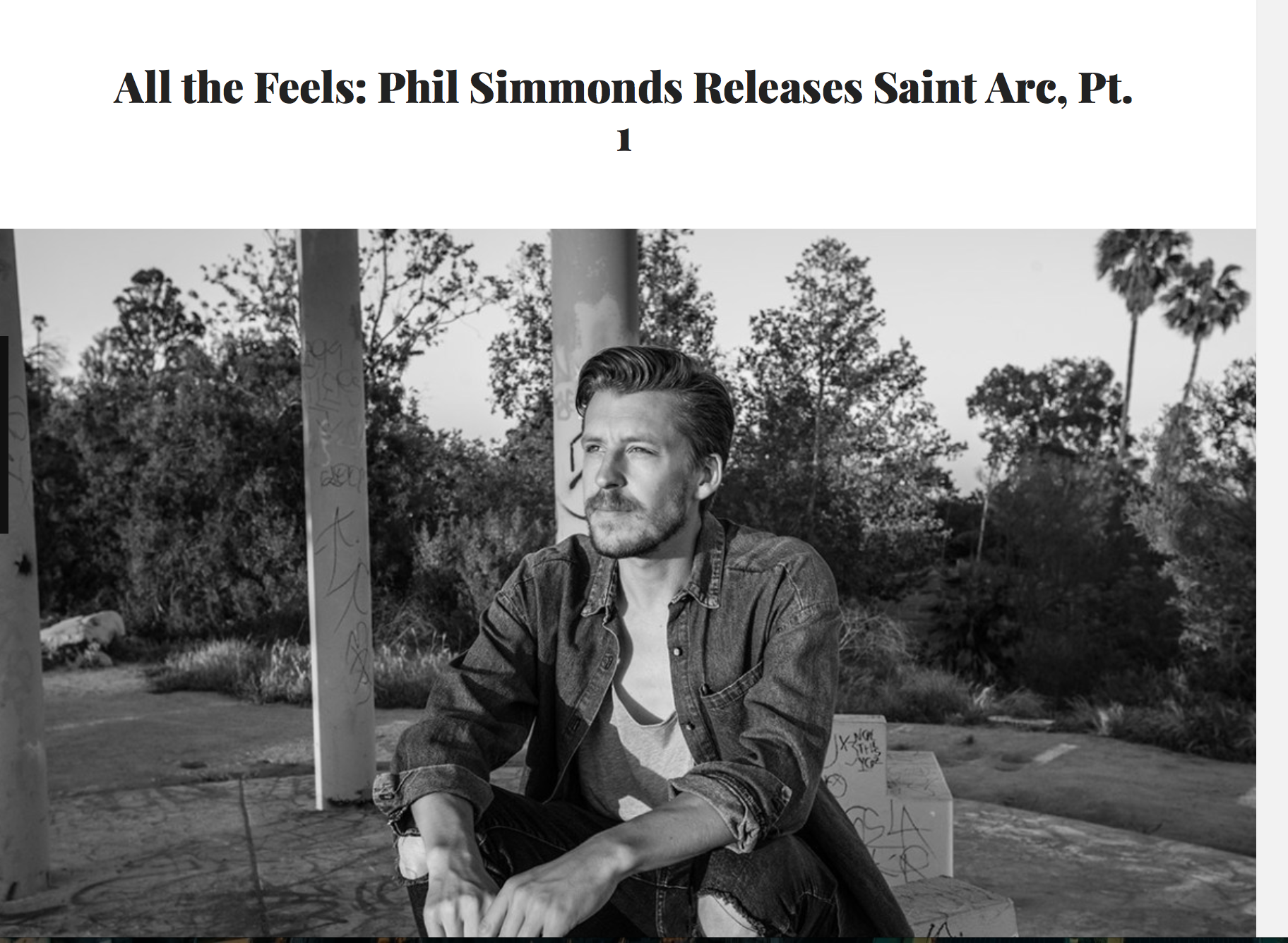 NYC SHOW & Saint Arc, Pt. 1 Review
"Phil Simmonds is an English singer-songwriter who started his career behind the scenes of some of the UK's biggest stars. But stepping out into the spotlight for the first time, we see a reluctant hero and exactly what we needed to heal the wounds of that day. His approach to performance is honest, from the quality of his voice to the stories he tells on stage. His music feels like a group catharsis – both deeply personal and deeply relatable. Phil's sound appears to gather inspiration from Radiohead, early Coldplay (read: the only good Coldplay), and Bon Iver, among others."
Photo review from Rockwood Music Hall - NYC
Photos by Stefanie Dabs.
"A stunning effort here from Phil Simmonds - 'Drive' is just magical."
London native, by way of LA, Phil Simmonds sounds like if Radiohead and Bon Iver collaborated during a Bonobo set, check out his new single 'Drive.'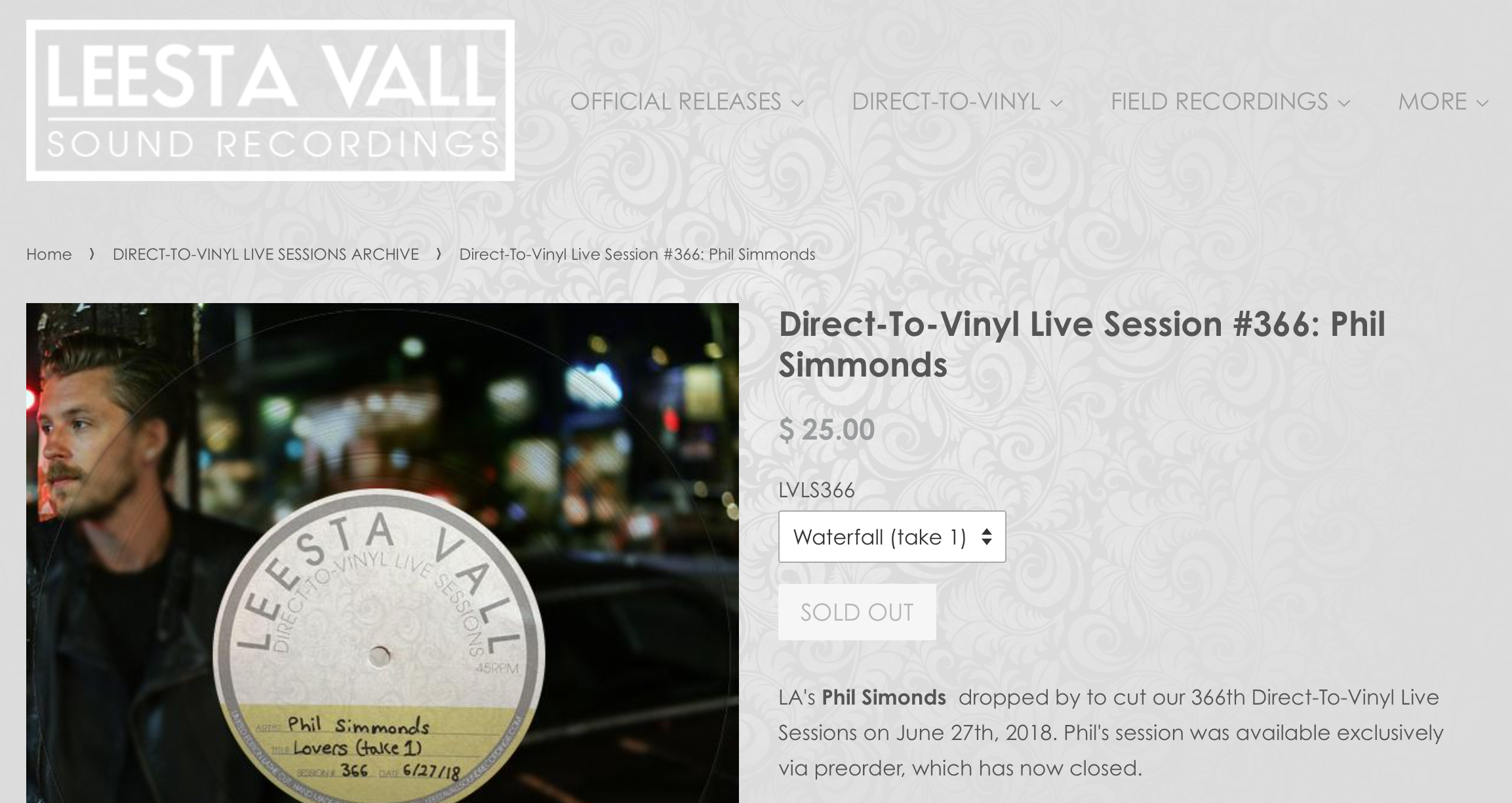 Leesta Call Sound Recordings - Phil recorded on the 27th June 2018 in NYC - exclusive recordings for Pre Order ONLY. - Sold Out!
Check out Leesta Vall for other great artist records
"Forging ahead with a solo bow, LA-based songwriter and producer Phil Simmonds shares "Drive," a beautiful single that has film noir written all over it. The guitar riffs alone act like hands of a compass guiding you in the right direction, while the warm tones channel the salty air of Malibu while driving down the PCH with the windows down. It's a trip not to be missed."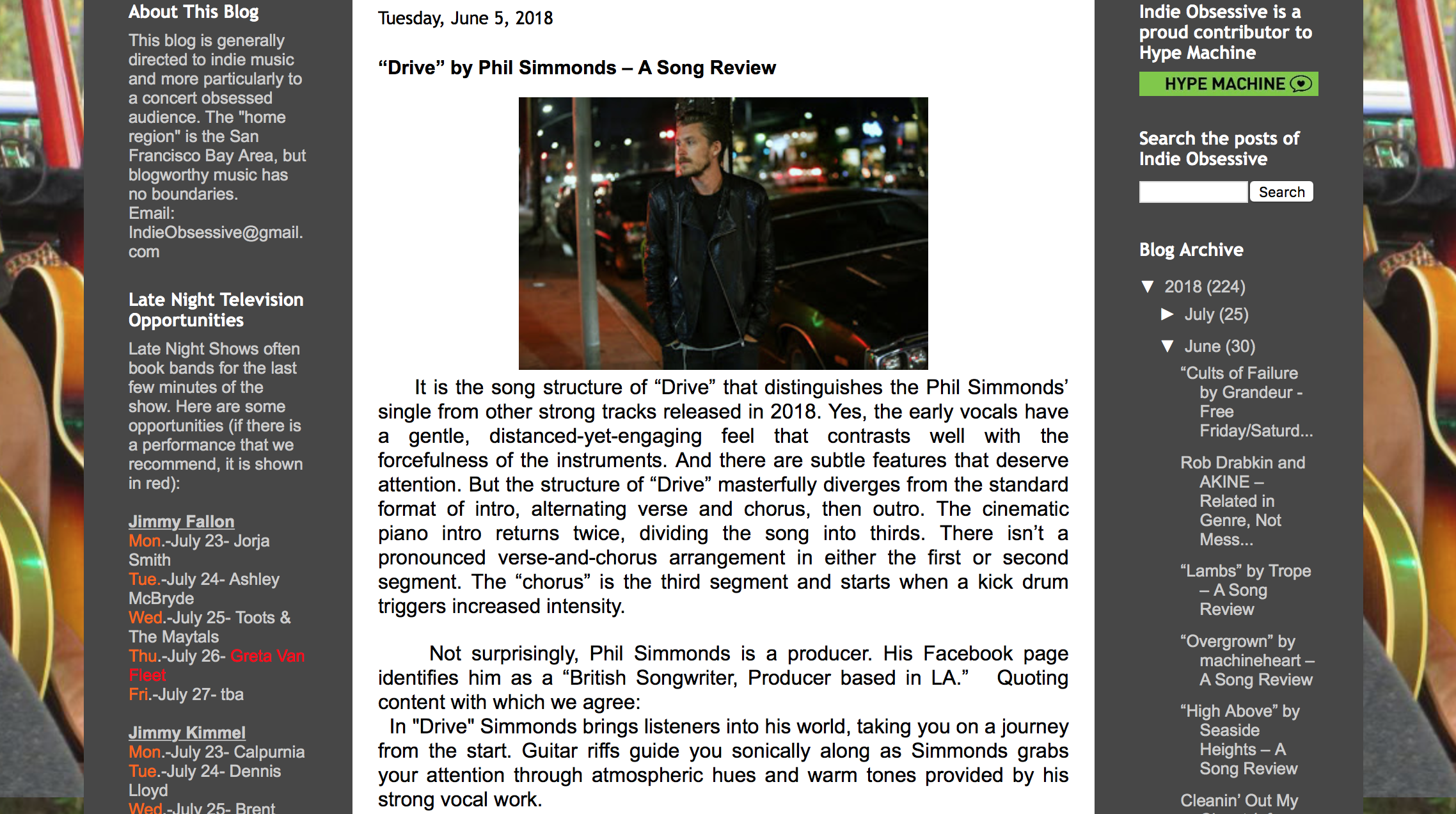 Indie Obsessive "Drive Review"
"It is the song structure of "Drive" that distinguishes the Phil Simmonds' single from other strong tracks released in 2018. Yes, the early vocals have a gentle, distanced-yet-engaging feel that contrasts well with the forcefulness of the instruments. And there are subtle features that deserve attention. But the structure of "Drive" masterfully diverges from the standard format of intro, alternating verse and chorus, then outro. The cinematic piano intro returns twice, dividing the song into thirds. There isn't a pronounced verse-and-chorus arrangement in either the first or second segment. The "chorus" is the third segment and starts when a kick drum triggers increased intensity."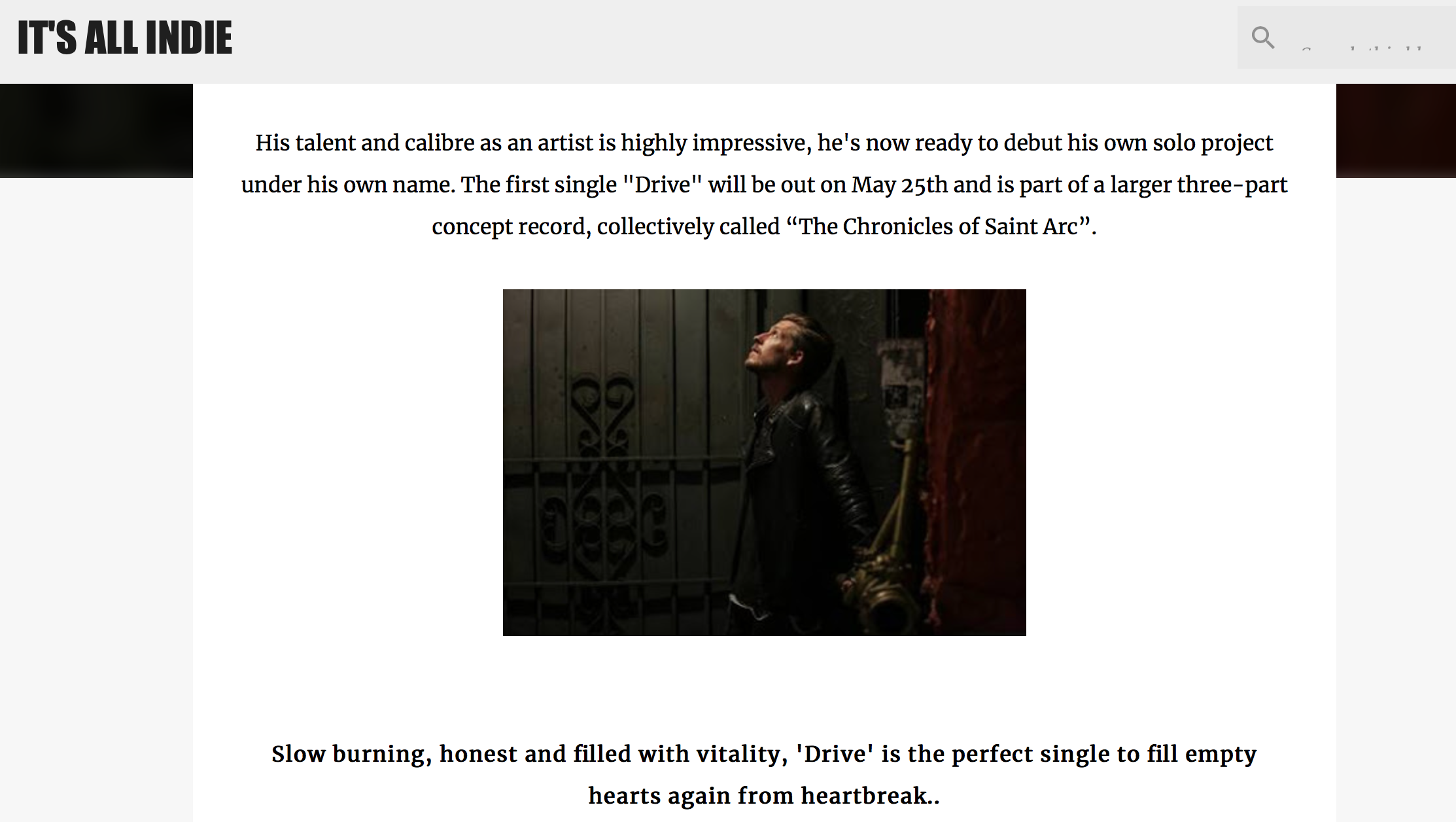 It's All Indie "Drive" Review
"Slow burning, honest and filled with vitality, 'Drive' is the perfect single to fill empty hearts again from heartbreak.."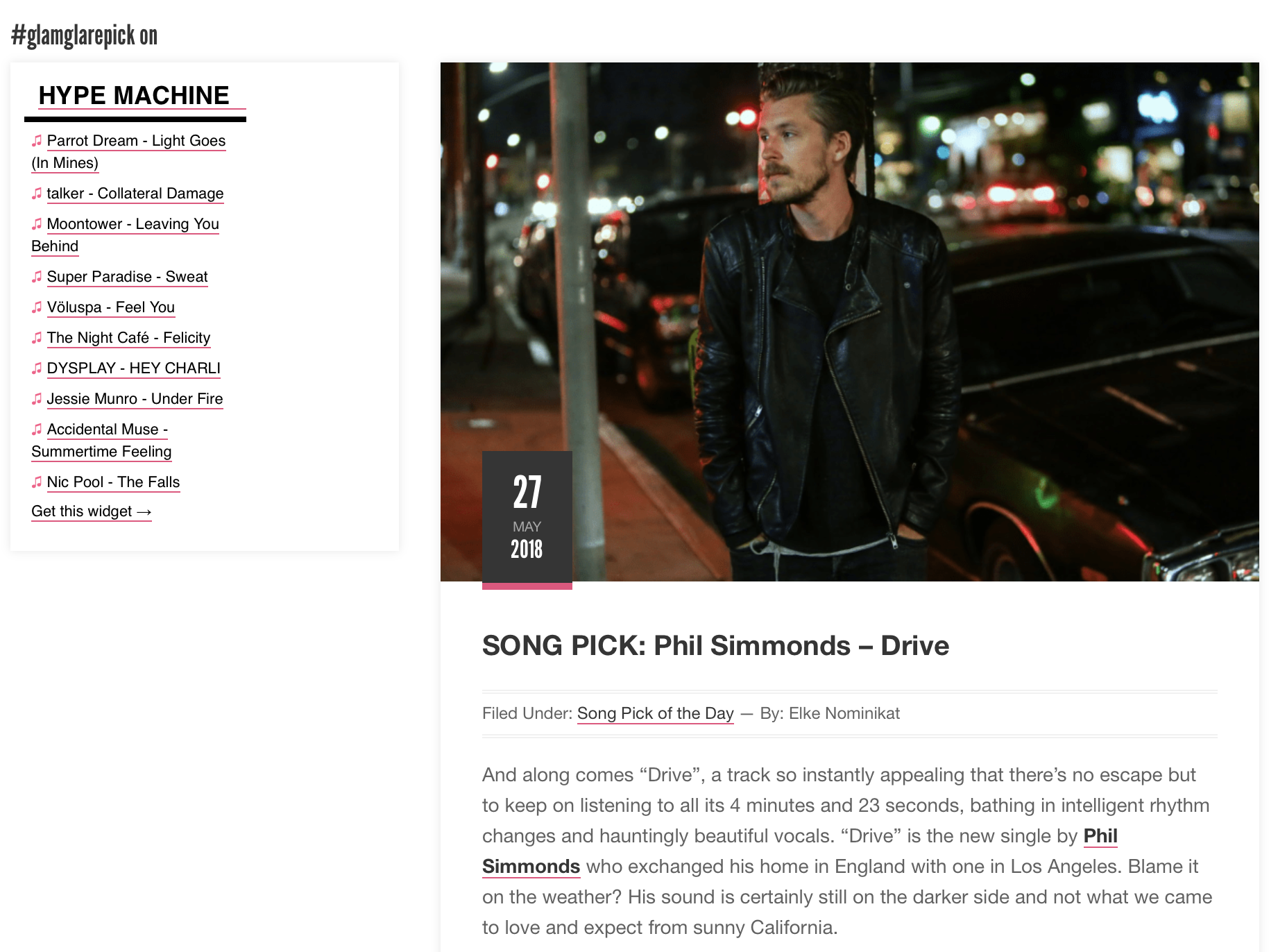 "And along comes "Drive", a track so instantly appealing that there's no escape but to keep on listening to all its 4 minutes and 23 seconds, bathing in intelligent rhythm changes and hauntingly beautiful vocals. "Drive" is the new single by Phil Simmonds who exchanged his home in England with one in Los Angeles."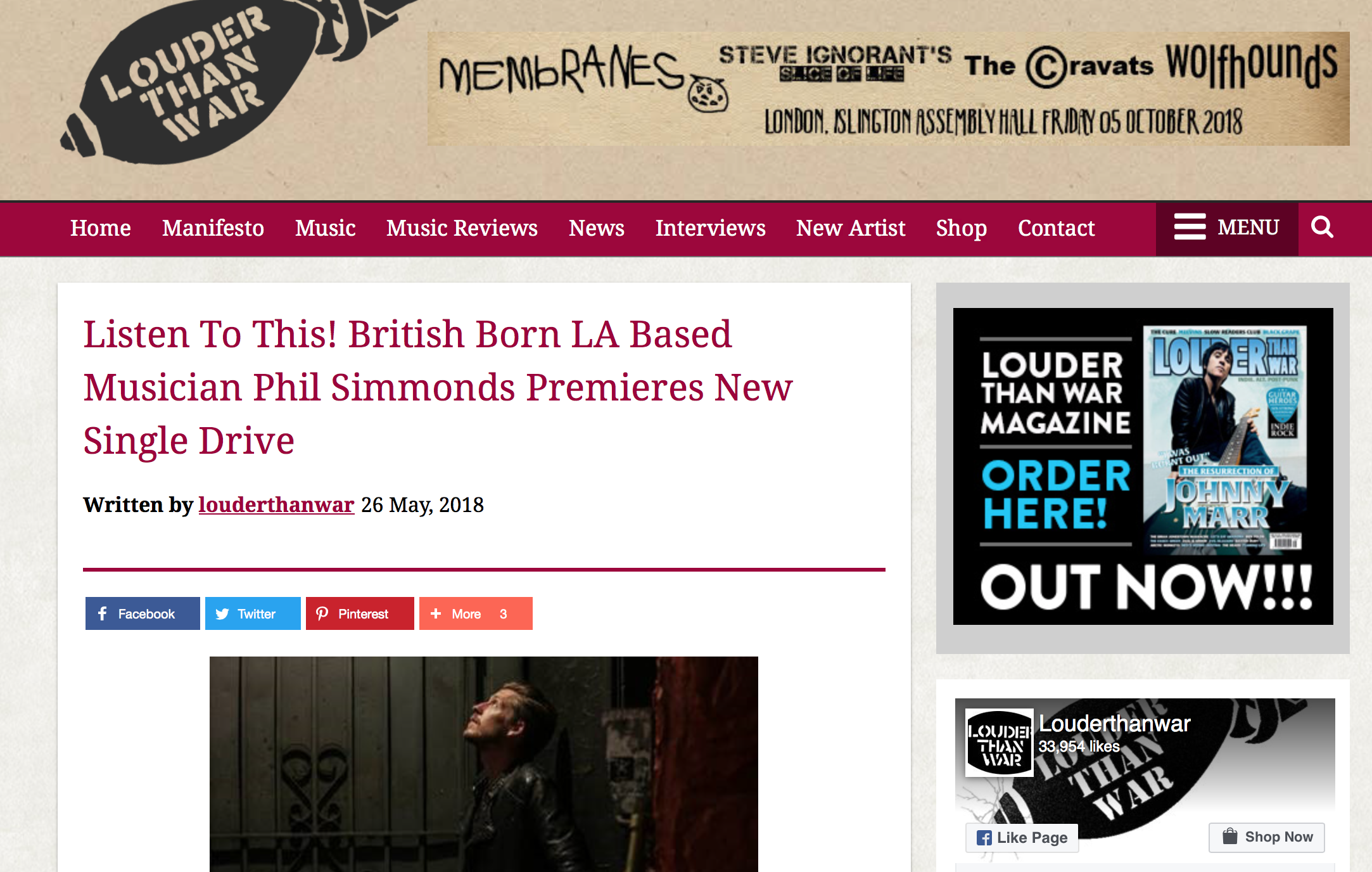 DRIVE - PREMIER ON LOUDER THAN WAR
"His talent and caliber as an artist is highly impressive, he's now ready to debut his own solo project under his own name. The first single "Drive" will be out on May 25th and is part of a larger three part concept record, collectively called "The Chronicles of Saint Arc"."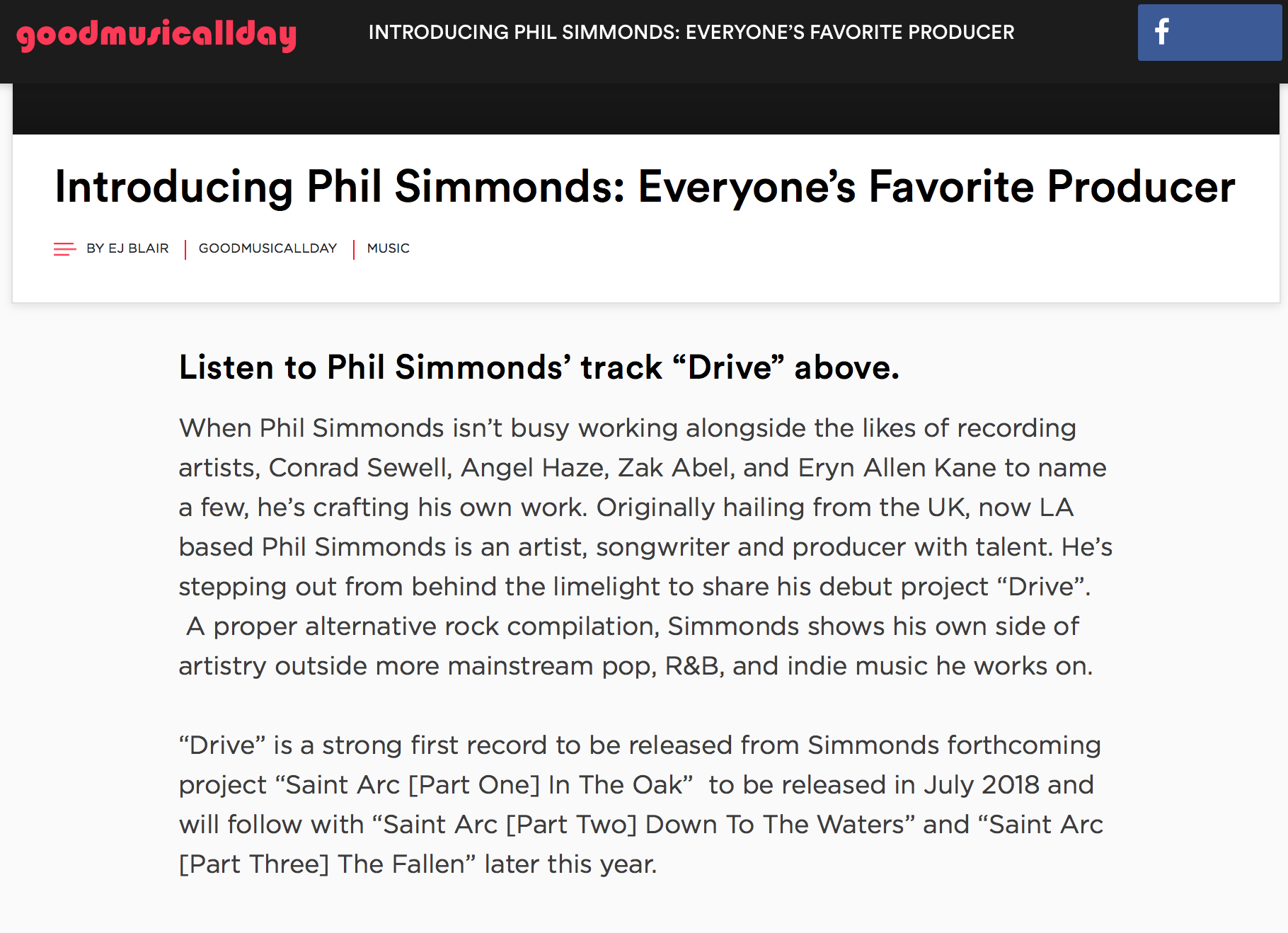 "Originally hailing from the UK, now LA based Phil Simmonds is an artist, songwriter and producer with talent. He's stepping out from behind the limelight to share his debut project "Drive"."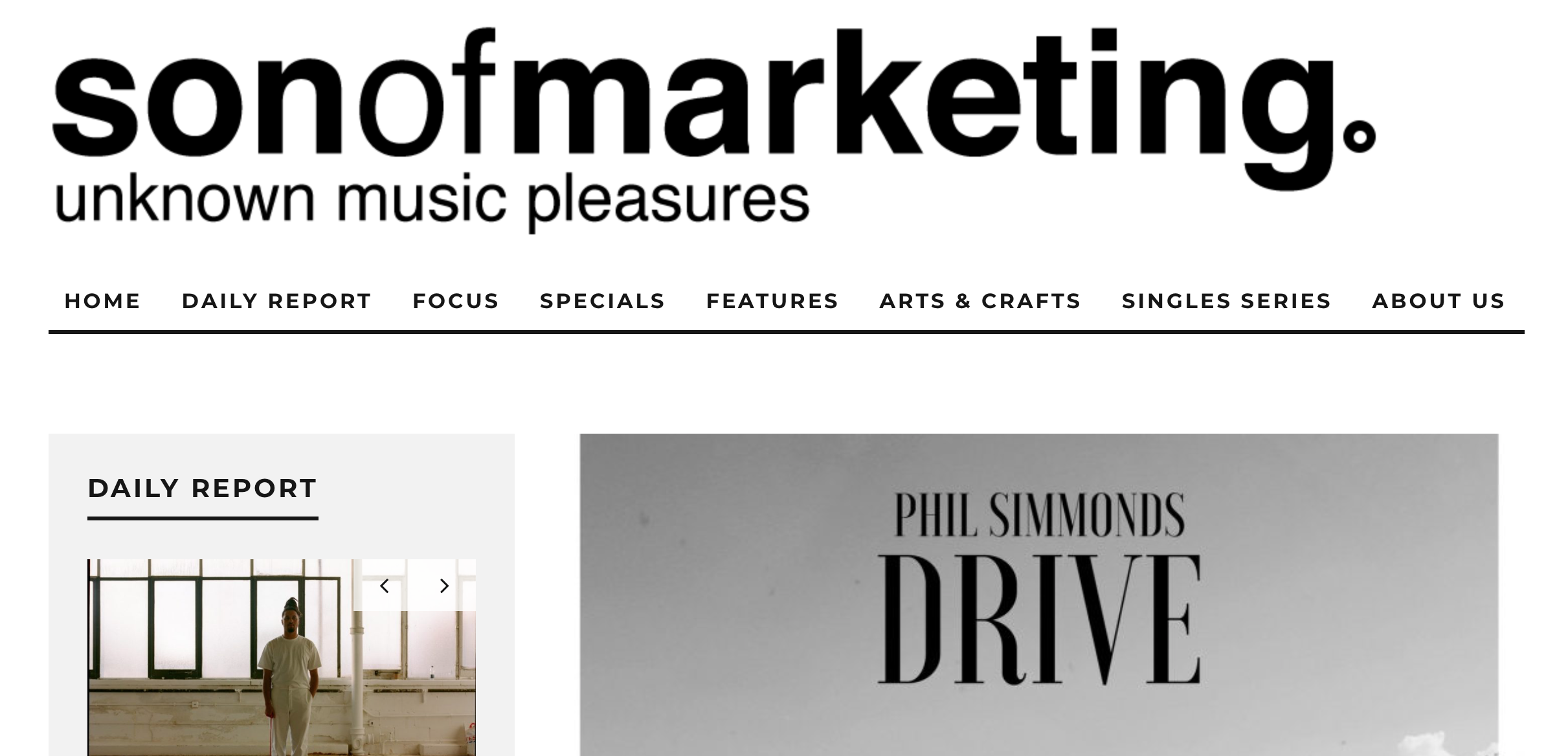 "just released his debut single "Drive", a proper alternative rock single with unique electronic elements. Stream below. "
"This is the third time I've listened through this song completely while trying to write this review, and I've made it through one sentence. I keep closing my eyes and getting absolutely lost in this song. From the straightforward and beautiful instrumentation like the piano to the finesse of the dulcimer, the arrangement to this song is so relaxing. Then, we get to Simmonds voice. Laying the groundwork with a pure rich tone, and an incredibly captivating falsetto, Simmonds' voice sounds like the guy she tells you not to worry about."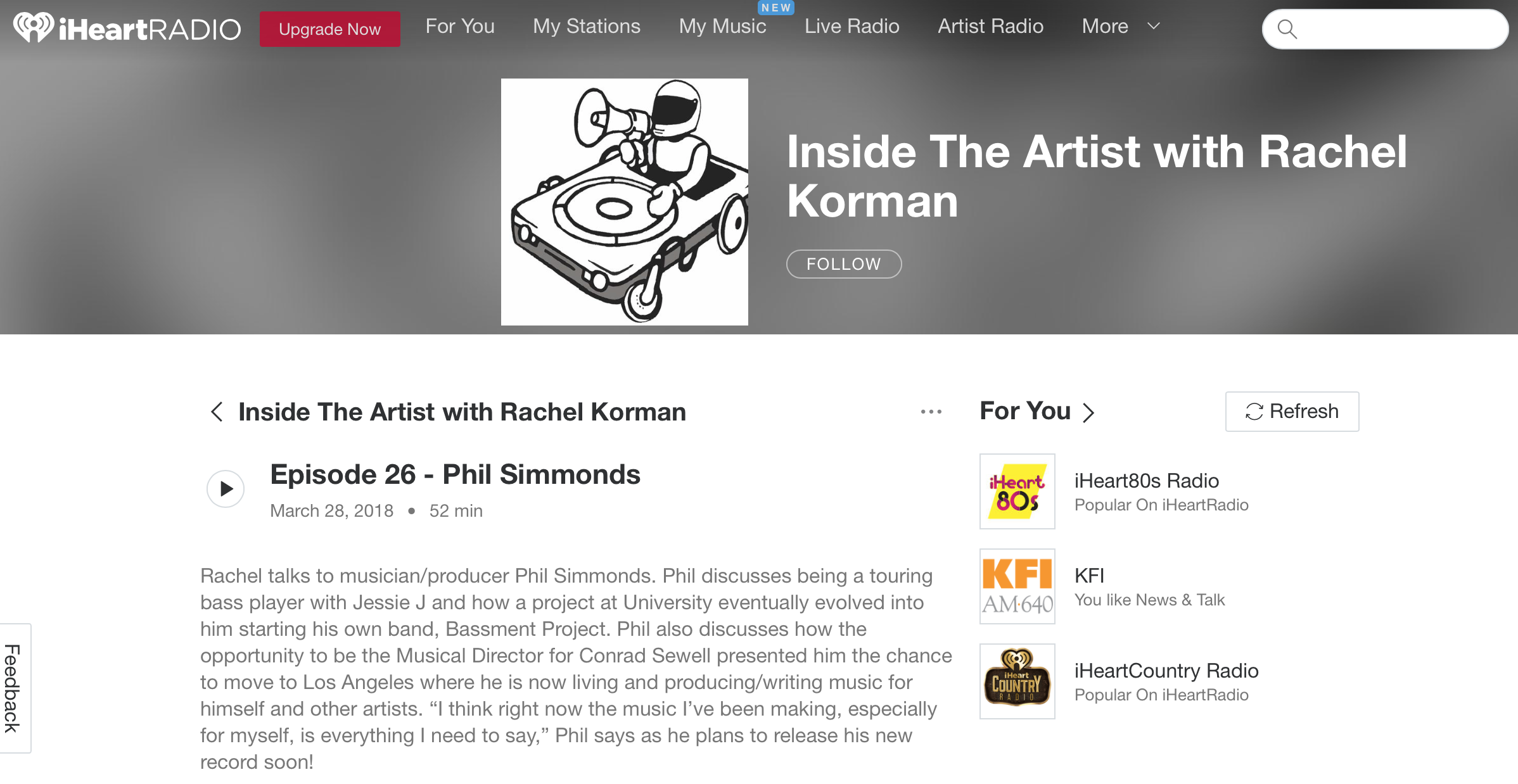 Inside The Artist: Interview
iHeart Media - Podcast w/ Rachel Korman